Every Sunday, our MORE teams show up because we get to do this. One of the greatest ways to get connected at MORE is by finding a team to serve on. If you aren't currently serving at MORE, we want you to get involved by joining one of our teams today.
HOST TEAMS
STREET TEAM
The first impression of MORE, welcoming and walking people into the church as well as managing the flow of the parking lot, making parking easy and efficient.
GREET TEAM
Love people and make them feel at home, welcoming them with a smile and the assurance that we anticipated them coming.
WELCOME TEAM
Connect people by creating a welcoming atmosphere in our lobby before and after each service. They make sure people get any information they need.
USHER TEAM
Prepare people for a positive worship experience by welcoming and assisting them to a seat and maintaining a distraction-free environment.
HOSPITALITY TEAM
This team prepares and serves coffee and more to ensure that our home is open and ready for everyone that walks through our doors.
PRAYER TEAM
Partner with and for people in prayer. Onsite & online, this team makes sure that our church is cared for spiritually.
CREATIVE
SOCIAL MEDIA
Capturing the Sunday experience and special events in real time through stories and posts.
WORSHIP
Leading the way in setting the atmosphere for the Holy Spirit to move through singing or playing songs in worship.
*audition required
PRODUCTION
AUDIO
Help create a dynamic and powerful worship setting for our services through mixing sound.
*full training provided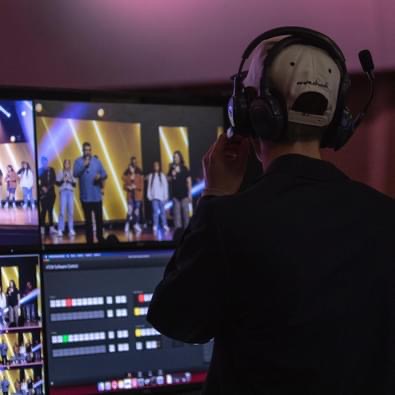 SERVICE FLOW
Help to put on weekend and special services. This team includes camera operation, video direction, lighting, stage management, screen operating, and more.
*full training provided
CAMERA
Capture Sunday services, special events, and more through photos and video.
*full training provided
NEXT GEN
MORE MINIS
Loving and caring for littles (6 weeks – 4  years old) so parents can enjoy service.
MORE MICROS
Teaching and leading classrooms with Bible lessons and activities for children form kindergarten to third grade.
MORE MEGAS
Engaging and leading interactive services for students fourth through sixth grade.
MORE YOUTH
Spend your Wednesdays helping make More Youth successful. Leading middle and high school students into MORE with Jesus.
MORE YA
Young adults are a huge part of MORE. As a young adult, you can serve at and attend any and all young adult events.
KNOWN ZONES
LIFE GROUPS
Leading a life group is a great way to cultivate closer relationship. From sermon discussion groups to discipleship or activity groups, you can do what you are passionate about and invite others to be a part.
MEN OF MORE
This is a great opportunity for men to serve other men! Join the team that facilitates periodic events for the men of More Church.
SISTERHOOD OF MORE
Join the Sisterhood and help make our womens events and studies happen! This is perfect for you if you need some flexibility to serve.
LEGENDS OF MORE
Maybe you have a heart for the 55+ community, and we love that! Help us show our love and appreciation for this generation.
RE|ENGAGE
Every week we invite and lead couples through discipleship when it comes to marriage. Come lead and grow with your spouse and others.
OFFICE SUPPORT
Field phone calls, as well as help with office organization, scanning/filing and other special projects.
COUNTING TEAM
Count and process weekly tithes and offering.
FACILITIES TEAM
Individuals able to do occasional repairs and minor renovations.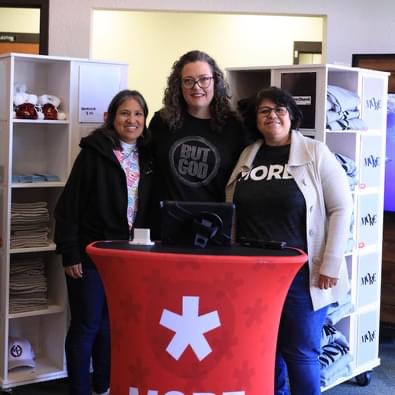 STORE TEAM
Setup and tear down of MORE store, selling apparel and serving in Sunday merch shop.